FREE EVENT – STARTS APRIL 10TH!
Join Steve Lowell and learn how to add $100K or more to your business through speaking in only 5 days.
5 Day Challenge Registration
A personal message from Steve...
5 Day Challenge Registration
"In my first presentation after working with Steve, I did 6 figures in sales"
Make an impact on the world.
You have a unique and valuable perspective – your message!
Your message can change minds and influence people beyond your wildest dreams, but not if your signature talk doesn't make real connections with your audience.
Join Steve Lowell, Founder of The High-Impact Speakers' Studio, in this FREE 5-Day challenge, where you'll learn how to add $100K to your business and engage your ideal audience by understanding the most important (and most often forgotten) elements that absolutely MUST be included when you craft a signature talk.
BIG WORD OF CAUTION:
This event is ONLY for you if you are dead-serious about learning how to create a signature talk that converts into revenue.
5 Day Challenge Registration
There is an ART to creating a $100k signature talk
Here's What You'll Learn In 5 Days:
DAY 1 - The "Un-Humdrum Checklist"
How to "Set the Stage" for a High-Impact Signature Talk 
The 5 biggest mistakes that keep you off the big stages
The 5 functions of a great speaker
How to choose how you will monetize your signature talk
Day 2 - The 5 Non-Negotiable Elements
Learn the Anatomy of a High-Impact Signature Talk
Learn to deliver your signature talk like a rock star
Use a simple and powerful structure for putting it all together
Select your unique style as a speaker
Day 3 - How to be Totally Mesmerising on Stage and Screen
Story and substance connect you with your audience
Learn 2 fail-proof strategies to blowing their minds from the stage or screen
Understand how to frame your stories wisely and prepare them for maximum impact
Day 4 - Your Rock-Solid Success Story Structure
Learn the short story formula that works anytime, anywhere
Turn any story into a client-attraction machine
Discover how a single short story can turn "I'm not interested" to "Tell me more!"
Day 5: Laser Hot Seat Day!
Watch Steve coach participants LIVE and in real time
Your chance to get LIVE 1-on-1 coaching from Steve!
Watch Steve guide participants on their first step towards getting their own $100K Signature Talk
Plus…all the tools you need to succeed!
Set up your offer and create a highly converting $100k Signature Talk
Action Tracker plus daily homework to make sure you keep up and on task
Case Studies to help you learn the concepts
25 Page Workbook to guide you through the strategy step-by-step
Past participants talk about the challenge: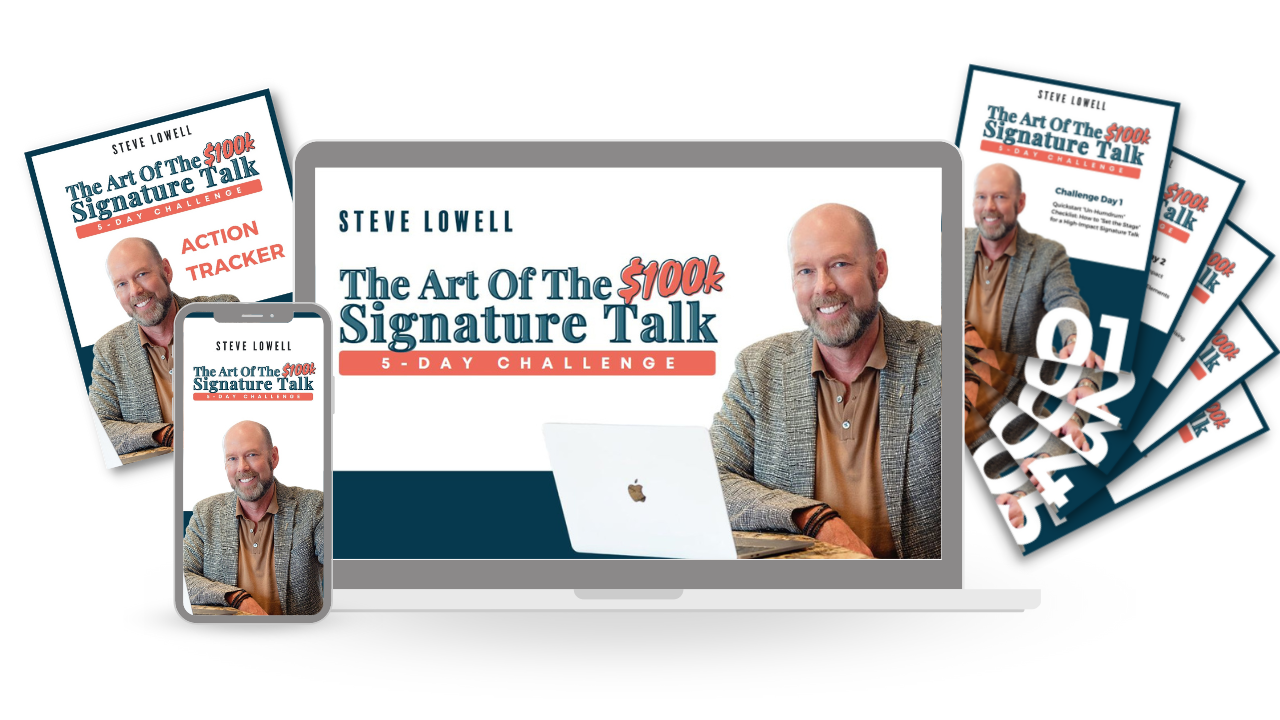 Where And When Do We Meet?
The Challenge runs Monday, April 10th through Friday, April 14th at
9:30 AM EST to 10:30 AM EST, on Zoom.
Zoom Link will be sent to you as soon as you register!
5 Day Challenge Registration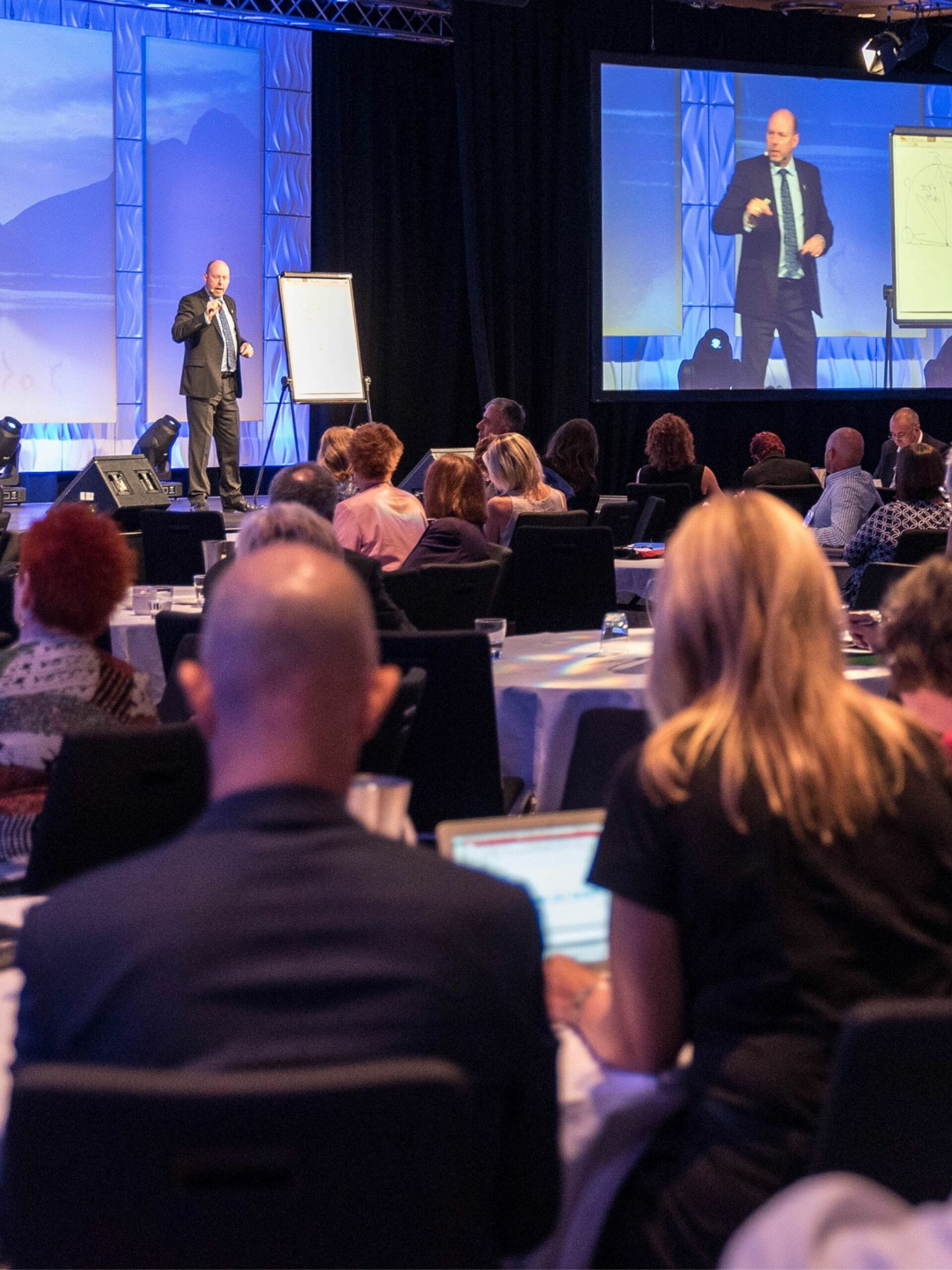 If you're a speaker, coach, or expert with a message to monetize through speaking… you NEED to have a highly-converting Signature Talk – but do you know how to create one?
We all know that the world has changed, and experts predict that the next few years will be the BIGGEST for stages in a very long time. New opportunities are opening up everywhere!
BUT the playing field has evolved. In 2022, 70% of speakers' gigs were virtual, up from 40% in 2020. YOUR Signature Talk needs to evolve as well.
Are YOU ready to craft a Signature Talk to take advantage of this new reality for speakers?
DON'T Make This Mistake…don't even start creating your signature talk until you know the proper building blocks that are required to make you stand out in your field!
It's time to learn the ART of monetizing from the stage and UPLEVEL

your Signature Talk!
You're tired of being the "best-kept secret"
You have inconsistent bookings AND results
Your Signature Talk isn't translating to leads, clients, or sales
You're too close to your own content – it's hard to get perspective
You wish there was a simple FORMULA you could apply to your Signature Talk
You want to learn from a GLOBAL EXPERT and cut your learning curve
YOU need this FREE 5-Day Challenge!
Join Steve if you're ready to:
Take advantage of the HUGE opportunities opening up for speakers
Assemble the mission-critical pieces you need to create a high-impact signature talk
Learn a SPECIFIC, PROVEN, FORMULA to be mesmerizing on stage AND screen
Craft a Signature Talk that converts into revenue
Stop leaving money on the table and get paid what you're worth
5 Day Challenge Registration

FREE EVENT – STARTS APRIL 10TH!
Join Steve Lowell and learn the exact steps to create a $100K Signature Talk in only 5 days.
5 Day Challenge Registration
Here's What They're Saying
"I took Steve's program and followed his system to a T. In my next keynote address, I secured three high-value business opportunities and several other viable leads. There's just no way to tell how much business will come from this one speaking engagement"
"After working with Steve I sold more in one speaking engagement than I sold all year long. Books were flying off the back table"
I earned more in one month than I used to earn in an entire year because of working with Steve"
"In my next presentation after working with Steve I closed a new $45K client."
"After my next speaking engagement to 2000 people, someone came up to me and I booked my next engagement at double my speaking fee. That's how effective Steve Lowell is."
"Steve helped me prepare my signature talk for a large conference in Dallas. Because of my work with Steve, I did mid 5-figures in sales from the stage"
Meet Your Host
Steve Lowell
"With something to say, and something to sell, you can make millions." –Steve
Steve Lowell, CSP, has been speaking and performing on the live stage since the age of 6, that's over 53 years ago!
From Ottawa, Canada, Steve is an award-winning, global speaker, and for over 30 years, he has been training and mentoring executives, thought-leaders, and professional speakers around the world to deliver high-impact keynote speeches, drive revenue from the platform and build wealth through speaking.
He's the Past President of the Global Speakers Federation (GSF) and the Past National President of the Canadian Association of Professional Speakers (CAPS).
A three-time #1 international best-selling author, Steve is a sought-after expert helping thought leaders and sales teams sell more by changing how they speak.
How does it work, and when do we meet?
The challenge runs between April 10th and 15th. We meet every day at 9:30 am EST until 10:30 am EST and the training takes place over Zoom. Once you register, you can click on our "Add To Calendar" and get all the dates added so you won't miss a beat.
How much time do I need to set aside?
We'll have a 45-to-60-minute session each day, plus there will be 60 secs of homework to do after each training session.
Does this training work for all industries, and all speakers?
Pretty much! Anyone who needs (or wants) to get in front of the room and speak should be at this challenge. It's not just for speakers. It's for aspiring speakers, sales professionals, coaches, consultants, thought leaders, entrepreneurs and experts of all kinds. If you have to speak (or WANT to speak), this is for you.
Who is this challenge for?
This challenge is for any coach, author, entrepreneur, speaker or expert who is tired of being the "best-kept secret" with inconsistent bookings and results. If your signature talk isn't translating to leads, clients, or sales, and you wish there was a simple formula you could apply to your talk, this challenge is for YOU!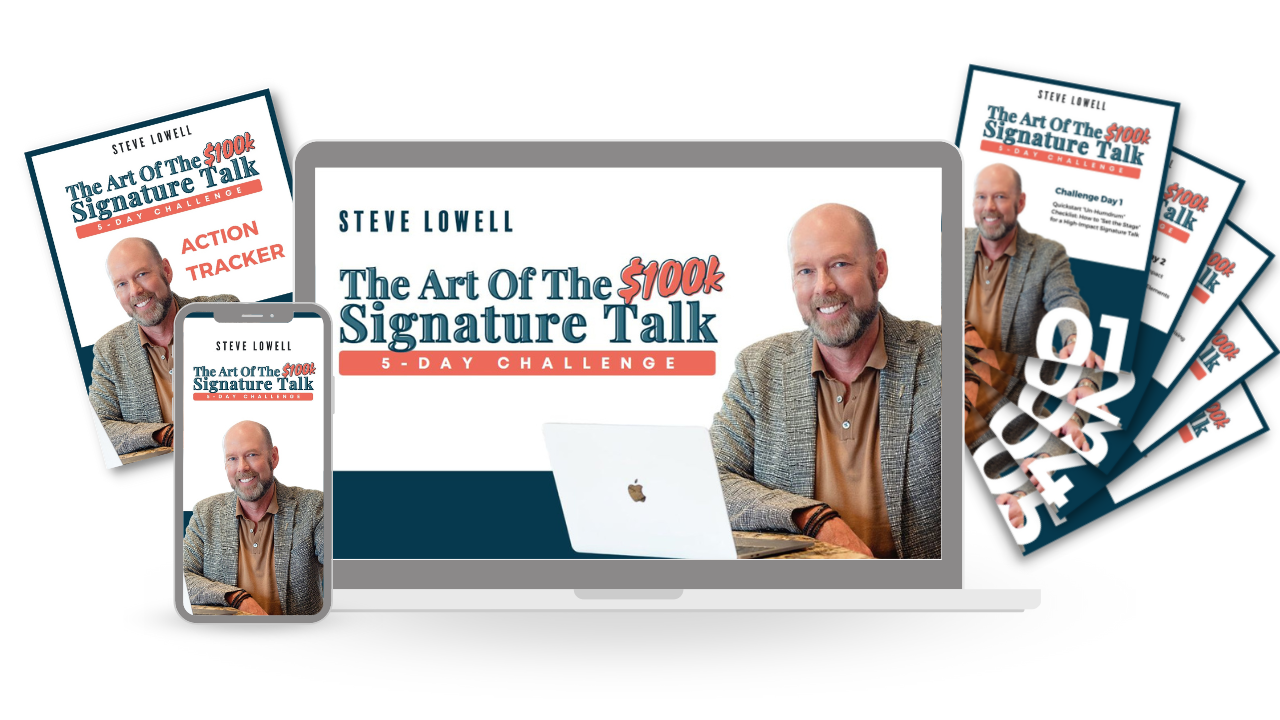 5 Day Challenge Registration

FREE EVENT – STARTS APRIL 10th!
Join Steve Lowell and learn the exact steps to create a $100K Signature Talk in only 5 days.
5 Day Challenge Registration
© 2023 S&J Training Solutions Inc